The upsurge in working from home is largely here to stay and the ability to work at home is practically a requirement for much of the world. With the COVID-19 pandemic, the percentage of workers teleworking has risen tremendously. Since the beginning of the pandemic, there has been a remarkable volume of research on the potential for home-based work as a crisis response. Find out what happens when Salesforce, San Francisco's largest employer shifts to a 'work from anywhere' setup.
Salesforce positioned itself as a focal point of downtown San Francisco with its behemoth headquarters. Now it joins the list of tech companies de-emphasizing the office.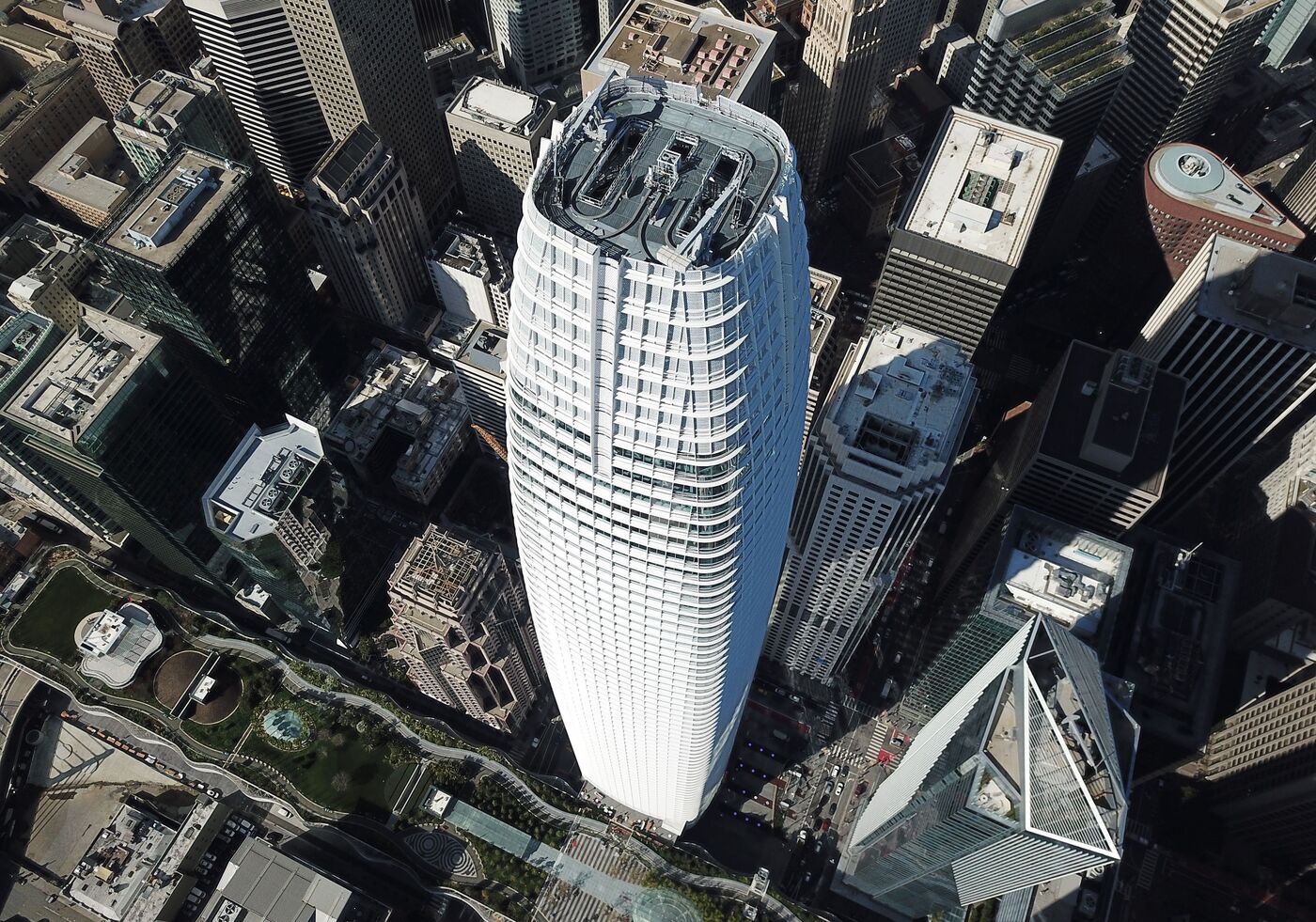 Salesforce Tower as seen from above in downtown San Francisco in 2019. Photographer: JOSH EDELSON/AFP
It's fitting that the building that most symbolizes San Francisco's recent relationship with the tech industry is owned neither by a tech company, nor even a company in San Francisco. Salesforce Tower, the second-tallest skyscraper west of the Mississippi at 1,070 feet, is owned by Boston Properties. Yet ever since the skyline-altering tower opened in 2018, it has served as a projection screen for critiques of big tech's place in San Francisco, however, exaggerated some of those may be.
Now that metaphorical stature takes on a new dimension, with Salesforce.com Inc. —
the anchor tenant
of the 61-story building's Class A office space — announcing a permanent "work from anywhere" policy that lets employees remain on remote or flexible schedules after the pandemic ends. As San Francisco's largest private employer, the customer-management software giant is a heavy hitter on the list of companies with similar plans set to affect downtown office spaces, including Twitter, Facebook, and Square, prompting tough questions about the vitality of the city's core and the overall economy.
"This is a much bigger urban workforce shift. It's saying, tech doesn't need to be anywhere," said John King, the San Francisco Chronicle's urban design critic. That shift applies to cities beyond the San Francisco Bay Area — including in Salesforce's other offices worldwide — but it may hit America's tech center especially hard. In the heart of the city that's in the heart of the region sits a behemoth tower and adjacent transit center where the namesake company will now de-emphasize commutes. A structure that had taken on outsized presence in the urban landscape — literally and metaphorically — will shape-shift again.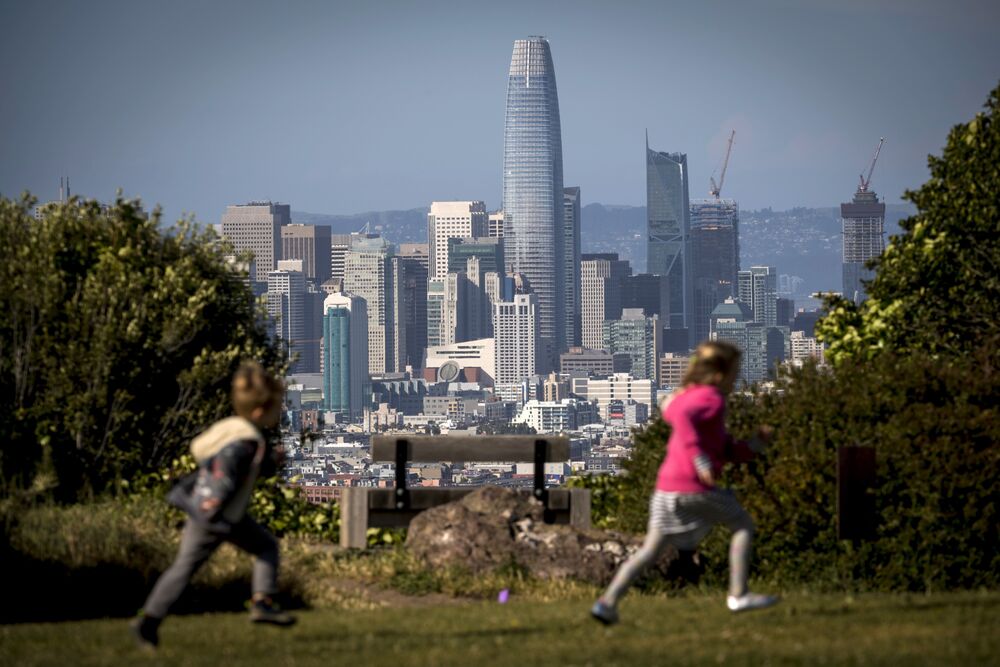 The new downtown-centric placement is a recent development for Salesforce, which sought out a consolidated central office to accommodate its growing workforce a little more than a decade ago. Circa 2008, Salesforce's employees have distributed across half a dozen office towers in the Financial District. Initially, Salesforce founder, chairman, and chief executive Marc Benioff, bought up blocks in the once-industrial Mission Bay area. But the deal fell through in part, said King, because "the kind of workers that Salesforce was hiring didn't want to be down in Mission Bay," which was only a mile away from the company's eventual home, but felt quasi-suburban.
Instead, Salesforce turned its sights to the city's South of Market neighborhood. There, as part of a broader plan to replace the Transbay Transit Center, a 71-year old downtown transportation hub, government authorities had sought the development of an adjacent tower that would represent San Francisco's commitment to transit, and one that would reshape the skyline said, King. It had to be at least 1,000 feet tall — grander than San Francisco's reigning tallest building since 1972, the 853-foot Transamerica Pyramid — and stand out against the rows of boxier buildings in the neighborhood.
Apart from its appeal to employees, Salesforce's location choice also offered an example of how, in contrast with peers bunkered down in suburban Silicon Valley or clustered in Mission Bay, the tech industry could be better integrated into civic life. The company doubled down on that attitude by securing its name on the then-Transbay Tower through a deal with Boston Properties. On opening day, Benioff drew a connection between the prominent location and his own role in confronting the city's civic woes, pledging to raise $200 million to shelter the city's thousands of homeless people. That crisis is partly linked to the tech companies, whose steady stream of highly paid workers has collided with a shortage of both market-rate and affordable housing years in the making.
"Tech wants to be part of the solution," Benioff said at the ribbon-cutting.
Yet in true San Francisco style, the new tower instead became a target of ridicule, with locals riffing on its hulking size, a curvaceous shape, and distinctive top with nicknames like "eye of Sauron." Both attention-grabbing and bland, it looked to many like an un-subtle sign of the industry's gentrifying influence on Bay Area counterculture. "It was a kind of symbol of tech greed and overreach and outsized role in the city's economy," said Tanu Sankalia, a professor of urban studies at the University of San Francisco.
Nikki Melet, the co-creator of "Just the Tip," a site that playfully captured views of the tower's presence, put it this way to SF Weekly in 2020: "It was kind of shocking, dropping this phallic skyscraper in the middle of the city. It changes the entire skyline — it's no longer the Transamerica Pyramid and Coit Tower. It's like, here we are. We are tech. This is San Francisco now."
That convergence extended, at least in name, to the adjacent Salesforce Transit Center, the $2.2 billion replacement for the Transbay Transit Center. Complete with a 5.4-acre rooftop park, the new transit center was brought to life over nearly two decades by government authorities and was christened with the Salesforce name through a $110 million sponsorship deal that the then-head of the SFMTA called "distasteful." The soaring bus terminal briefly opened to fanfare, but its image wasn't helped when, less than two months later, the discovery of cracked beams forced it to shutter operations for nearly a year.
After so much baggage attached to Salesforce's San Francisco footprint, it now faces a potentially emptier future, as does all of downtown. How much emptier isn't clear yet: A Salesforce spokesperson said that the company plans to evaluate future real estate needs as its business priorities shift. As of 2019, the company reportedly occupied 36 floors out of the building's 61, amounting to 881,762 square feet. Going forward, the company predicts that 65% of its employees will commute into the office one to three times a week, across all of its global offices. Assuming that pattern holds in San Francisco, Kim-Mai Cutler, a partner at the venture capital firm Initialized, expects most workers to sprawl not into other states but neighboring cities. That could affect San Francisco's bottom line by reducing local tax revenue and could complicate gross receipts tax calculations, without making much of a catastrophic dent in the region's overall population.
Yet Salesforce's 9,000-employee workforce in San Francisco is only one Jenga piece of many that are concentrated not just in San Francisco but in what King calls the "concentrated crossroads of tech" lining the Transit Center's rooftop park. Facebook, Trulia, and Slack (which is in the midst of being acquired by Salesforce) all have offices that hug the green strip, and all of them have indicated varying degrees of work-from-home forever. Based on a survey Initialized conducted of about 100 of the companies it funds, Cutler expects the share of fully decentralized companies to increase from one-fifth to more than one-third after Covid-19, with another third preferring the hub-and-spoke model. Pre-pandemic, the San Francisco Bay Area was the favorite physical business launch location for more than 40% of founders surveyed; post-pandemic, that number was down to just 28.4%. The new favored location: the cloud. (Not to be replaced by Austin or Miami so easily, San Francisco still ranked second.)
Observers expect such industry-wide policy changes to have noticeable impacts on downtown life. For one, they could send transportation patterns into flux: If downtown tech offices all choose to front-load in-person collaboration at the beginning of the week, for example, Monday could see more traffic than ever, while Friday's streets are left empty, said Cutler. The broader economic ecosystem could also take a hit: Salesforce eschewed the kind of tech cafeteria that other companies used to keep employees insulated and on-campus, instead of encouraging them to lunch at food trucks and outside vendors, said Molly Turner, a lecturer at the University of California, Berkeley who specializes in tech's influence on cities.
Fewer bodies on the streets, fewer days of the week would likely dry up business for those sandwich spots, not to mention incomes for janitors and food service workers employed by companies themselves. And then there is the depletion of job opportunities that government incentives were meant to pay for. Twitter's headquarters on Market Street, built in part with city tax breaks, is the best example of this, said Sankalia. "What happens to those who were promised a degree of employment?" he wondered. "How does that recalibrate the city's relationship with tech?"
Via What Happens When a City's Largest Employer Goes 'Work From Anywhere